Why Is My Car AC Blowing Hot Air?

Regardless if the outside temperature is rising or if you've just gotten back from a long hike near D'Iberville, Gulfport, and Hattiesburg, it's essential that your car's air conditioning continues to work, no matter what.
Fortunately, the service professionals at Pat Peck Kia are here to answer all your questions, including ones like, "why is my car AC blowing hot air?"
With the helpful tips and tricks in this guide, you'll learn about the main reasons about what could be causing your vehicle's air conditioning system to blow hot air, such as:
Electrical failures
Damaged compressor
Leaking refrigerant
Our team will go more in-depth about the above possibilities and how they can be fixed, that way, you and your loved ones can enjoy a cool, refreshing cabin that quickly adjusts to your temperature preferences.
Electrical Failures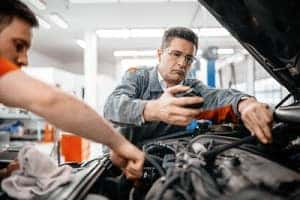 Instead of being powered by fuel, like most things inside your car, the air conditioning system is operated by the electrical system. With that in mind, it's possible that an electrical issue is the reason why your vehicle's AC is blowing hot air.
To ensure that you remain safe, the electrical system shuts down in an effort to prevent overheating and to avoid damaging other parts of your automobile.
That's why regular maintenance is a must. Whether the issue is caused by an electrical malfunction or a part that needs to be replaced, consulting a professional can help you identify the cause of the problem.
By scheduling routine checkups, a skilled mechanic will replace any electrical items inside your car to keep everything working properly.
Damaged Compressor
The compressor is an essential part of the air conditioning system inside your automobile. By pushing air through the system, this part provides you with a fresh stream of air on hot days.
However, without regular replacements and care, this part can wear out over time. Once the compressor becomes damaged, you won't have a continual flow of cool air inside the cabin.
Fortunately, there's an easy way to keep your AC's compressor performing at its best. All you have to do is run the air conditioning system or defroster for about 10 minutes every month, no matter what the weather is like outside.
That way, the compressor will work off any debris or dirt that's built up during the colder months and prepare itself for frequent use once warmer weather arrives.
Leaking Refrigerant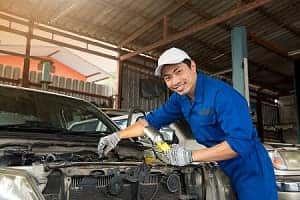 To cool down the air inside your vehicle, you need to be equipped with plenty of refrigerant. However, if the refrigerant is leaking, you'll likely have your AC system blowing hot air.
Unlike other fluids under the hood, your air conditioning system's refrigerant is secured by seals that keep it from escaping. So, if your refrigerant levels are low, it's likely due to a leak somewhere within the hose units or other connections.
All in all, the best way to identify the source of your air conditioning's cooling malfunction is to seek out the advice of a highly qualified technician.
Schedule Your AC Repair Today!
At Pat Peck Kia, we're committed to providing drivers near D'Iberville, Gulfport, and Hattiesburg with trustworthy service and repairs when your car AC starts blowing hot air.
Thanks to the experience and insightful guidance of our professionals, you'll be sailing down your route inside a cool vehicle without a care in the world.
To learn more about how we can get your air conditioning system back into top-notch shape, simply visit our service facility, give us a call, or schedule your appointment today!