When to Check Your Transmission Fluid

When it comes to automotive maintenance, keeping your vehicle's transmission fluid at the recommended level is an essential task. At Pat Peck Kia, we encourage drivers from D'Iberville, Gulfport, and Hattiesburg to take the time to inspect their transmission fluid on a regular basis to ensure their vehicle is running smoothly.
If you've ever wondered how or why you should check your transmission fluid level, read on. Our handy guide will tell you everything you need to know about when to check your transmission fluid.
What is Transmission Fluid?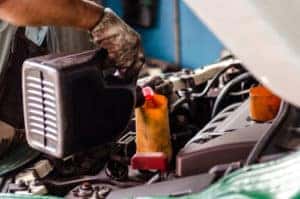 Before diving into when you should check your transmission fluid, it's important to know what the substance is. Transmission fluid is optimized to keep vehicles with an automatic transmission lubricated and functioning properly.
Additionally, transmission fluid serves as a coolant for automatic transmissions. When a vehicle is in operation, its various mechanical elements begin to heat up. When your transmission fluid is at an ideal level, it'll work to keep your vehicle's transmission system at the correct temperature, eliminating the potential for overheating and other issues.
When Should You Check Your Transmission Fluid?
Every vehicle on the road follows a manufacturer-recommended maintenance schedule. To find your maintenance schedule, consult your owner's manual for a detailed breakdown of service intervals and procedures. Typically, flushing and replacing transmission fluid is a component of every vehicle's maintenance schedule.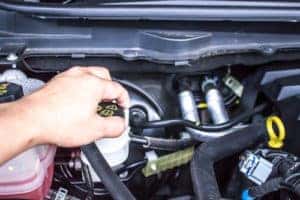 However, it's important to get in the habit of checking your transmission fluid every month or so. You should check your transmission fluid if you notice any of the following symptoms:
A grinding or rumbling noise is coming from your transmission
Your vehicle stalls whenever you attempt to change gears
Your vehicle lurches forward suddenly
Experiencing the above symptoms is a strong indicator that you'll need to flush and change your transmission fluid. Your local service center can easily assess the situation and change your transmission fluid in a short amount of time, making a visit well worth it for drivers that aren't as comfortable performing automotive maintenance.
How Can I Check My Transmission Fluid?
Knowing how to check your transmission fluid level is an invaluable skill for drivers who wish to have a better understanding of their vehicle. It's a relatively straightforward process that can be completed in a few minutes once you know what you're doing.
Your owner's manual contains detailed instructions about how to check your transmission fluid. For a streamlined guide, follow these easy steps:
Park your car on a level surface and let the engine idle for 10-20 minutes. Letting the engine run allows your vehicle to heat up to regular operational temperatures, allowing for a more accurate read of your transmission fluid.
Pop the hood of your car and find the transmission dipstick. Typically, the transmission dipstick is located close to the engine block and near the transmission system. Consult your owner's manual for the exact location.
Pull out the dipstick, wipe it clean with a rag, and reinsert it. Wiping the dipstick clean allows you to get a fresh and accurate read of the transmission fluid level.
Remove the dipstick and read the oil level. Your dipstick has etchings on it that correlate to transmission fluid levels. If the oil lands between the "Full" and "Add" etchings, your transmission fluid levels are acceptable. If the stick reads "Add," contact your local service center or refill the fluid at home.
Repeat the steps for an accurate reading. Before you close your vehicle's hood, it's wise to repeat the process one or two more times to double-check the readings.
Your owner's manual will contain information about what types of transmission fluid your vehicle needs. If you have any additional questions, your local service center can assist, too.
Your One-Stop Shop for Transmission Fluid
The next time you notice that your transmission fluid is running low, schedule an appointment with Pat Peck Kia. Our expert technicians proudly serve drivers near D'Iberville, Gulfport, and Hattiesburg with transmission fluid replacements, inspections, and more.
We hope to see you soon!