Local Spotlight: Twisted Anchor Tattoo and Fine Art Gallery

Have an idea for that new tattoo you want to get? Are you finally ready for that first tattoo? Either way, the artists at Twisted Anchor Tattoo are ready to help. Their professional, clean environment makes it fun and relaxing for you while getting tattooed, no matter if it is your first or tenth one!
The Artists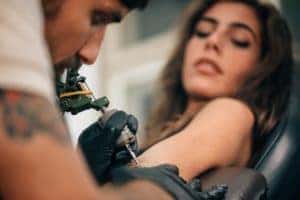 The team at Twisted Anchor Tattoo is an extremely talented one. They all are dedicated to their craft as they give each customer who comes by a positive and unforgettable experience.
The team of award-winning artists at Twisted Anchor Tattoo each have their own unique style when it comes to their artwork. Match your vision to the right style, and that artist will get to work bringing your vision to life.
You can even get a feel for what they can do by checking out each of the artist portfolios displayed on their website. This will show you their past work and give you an idea of what their individual styles are like.
Whether you want a simple quote or a more complex picture of aquatic wildlife, they will be able to design the perfect tattoo for you. In the end, Twisted Anchor Tattoo is committed to making sure you get a beautiful piece of art that you will proudly cherish for the rest of your life!
Wear Their Art on Your Sleeve
Twisted Anchor Tattoo showcases their art other ways, too. Beyond getting a tattoo, you can also bring home a piece of their artwork to display in your home. They have various prints you can choose from that make for great wall art.
On top of wearing their art on your skin, you can also proudly sport it on your clothing. They sell shirts, hats, and more sporting various pictures and designs that will add a unique sense of style to your wardrobe.
Get Your Next Tattoo at Twisted Anchor
Schedule a consultation today with one of the talented artists at Twisted Anchor Tattoo! They will be able to make whatever tattoo you have pictured in your head come to life. You can book an appointment now right on their website or by giving them a call.