Local Spotlight: Mississippi Music Inc.


In today's digital age, there are numerous ways to enjoy the wonder of music, but perhaps nothing beats the old-fashioned charm of walking into a music store. That's exactly what Mississippi Music Inc. has been bringing to the folks of our great state for over 70 years. Whether you're looking to learn a new instrument, brush up on old skills, or bring in your equipment for repairs, Mississippi Music Inc. has you covered.
In this local spotlight, we'll highlight this Mississippi marvel, so keep reading to discover just what Mississippi Music Inc. is all about!
Expert Music Instruction
In 1946, founder James W. Johnson opened his Mississippi-area music store with one mission in mind: to give everyone the best chance possible of learning to play an instrument. Fast forward over 70 years, and Mississippi Music Inc. continues to provide top-class instrumental lessons to people of all ages and skill levels.
One of the key components to successfully learning an instrument is regular instruction, and the teachers of Mississippi Music Inc. play a key role in that. They bring years of experience across a wide range of styles, offering lessons for various instruments, such as:
Guitar and ukulele
Piano
Drums
Violin
Woodwinds
Voice
Furthermore, with multiple locations and convenient hours including evenings and weekends, you can always find time for instruction. For a complete list of available lessons and appointment times, be sure to visit their website.
Service and Repairs
We've discussed the musical lessons provided by Mississippi Music Inc., but did you know that they can also repair your instruments and equipment?
That's right! They've got over a dozen technicians on staff totaling more than 200 years of combined experience in servicing instruments from guitars, brass, strings, and woodwinds. Apart from instrument repairs, they also provide electronic adjustments, like cleaning noisy controls and jacks, re-tubing amplifiers, and even performing complete rebuilds on older guitar amps.
Complete Selection of Instrument Rentals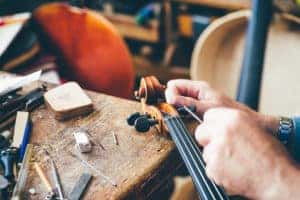 If your child is a part of their school's band or orchestra, they'll need an instrument, and renting is an excellent option. Mississippi Music Inc. stocks band director-approved instruments with a no-risk, no-obligation rental plan. There's no minimum rental period, either, so no worries if your child suddenly decides that the trombone is not for them.
Additionally, they offer built-in maintenance and replacement coverage on all their rentals. While their instruments are high quality and capable of withstanding rough handling, it's still nice to know you're protected.
Get Ready to Rock
Ready to turn your musical talent up a few notches? Visit their Facebook page for all the latest updates, then stop by Mississippi Music Inc. today, and let the jam session begin!