2019 Kia Sportage vs Honda CR-V


The 2019 Kia Sportage and Honda CR-V are both impressive crossovers with plenty of engine power, smart safety features, and infotainment technology that makes them even more fun to drive. However, only one of these vehicles can be named our top pick for drivers in D'Iberville, Gulfport, and Hattiesburg.
Check out our 2019 Kia Sportage vs. Honda CR-V comparison to find out which one our team at Pat Peck Kia liked best for local drivers.
Kia Sportage vs Honda CR-V Engine Specs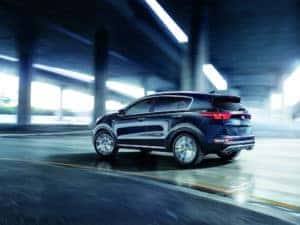 First, we wanted to look at how much power the Sportage and CR-V have to offer, so we considered their turbocharged engines.
The Honda CR-V hits the ground running with an available 1.5L turbo I-4 engine that produces 190 horsepower and 179 lb-ft of torque. The Kia Sportage, on the other hand, packs a 2.0L turbo I-4 that delivers 240 horsepower and 237 lb-ft of torque.
In addition to their powerful engines, the two crossovers give you the choice between lightweight front-wheel drive (FWD) or an intelligent all-wheel drive (AWD) system. The AWD systems are great for off-roading or traveling along muddy or rainy roadways. These systems actively monitor your conditions and automatically redistribute torque between all four wheels as necessary to improve your grip.
However, with its stronger engine power, the Kia Sportage may be more capable than the CR-V when accelerating in low-traction conditions.
Smart Safety Features in the Sportage vs CR-V
Both the Kia Sportage and Honda CR-V take safety very seriously, which is why they both make several smart safety features available to help you stay aware of your surroundings. For example, they both have available automatic high beams. These high beams automatically toggle on and off to go with the flow of traffic on dark backroads.
The Kia Sportage further improves driver visibility with available Low Beam Assist-Dynamic. This feature turns your headlamps with your steering wheel. Without a similar feature, drivers in the CR-V may encounter more surprises when coming around a tight bend.
Both crossovers also have an available blind spot monitor system that issues a visual alert when another vehicle enters your side blind spot. The Sportage improves upon this feature by including available Lane Change Assist. This system will let you know if vehicles in your intended lane are approaching too quickly to allow you to change lanes safely.
The Honda CR-V, unfortunately, doesn't offer this kind of guidance.
Infotainment Systems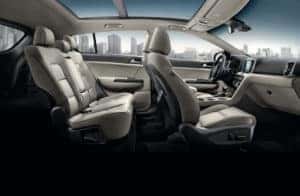 While the Kia Sportage and Honda CR-V are both fun to drive, what really makes the journey enjoyable is the infotainment systems they each offer. Both SUVs come standard with Bluetooth® connectivity that allows you to wirelessly connect your smartphone to your car. This feature allows you to answer important calls or stream music from your device through your car's audio speakers.
They also have available Apple CarPlay™ and Android Auto™ capabilities. With these systems, you can fully integrate your phone with your vehicle and access your favorite apps through your touchscreen display. You can easily access your phone calls, internet radio, text messages, and navigation.
It's important to note that the display screen in the Honda CR-V only goes up to seven inches, while the Kia Sportage has an available 8-inch display screen. With the larger display, navigation and other infotainment features may be a bit clearer in the Sportage.
2019 Kia Sportage vs Honda CR-V: Our Top Pick
After comparing the 2019 Kia Sportage vs. Honda CR-V, the team at Pat Peck Kia decided that the Sportage is our top pick for drives around the Hattiesburg, D'Iberville, and Gulfport areas. Want to try it yourself? Contact us to schedule a test drive of the Kia Sportage today!