2019 Kia Sportage Towing Capacity

The 2019 Kia Sportage is a highly versatile compact SUV prepared for your travels around D'lberville, Gulfport, and Hattiesburg. Pat Peck Kia is proud to be your local Kia dealer and is proud to sell the Kia Sportage at our location.
While this car is certainly far from a full-size pickup, it does offer towing versatility. In this space, learn more about the 2019 Kia Sportage towing capacity and how to bring a few more items on that next trip.
Kia Sportage Towing Ability

One of the best things about the Kia Sportage? The ability to make it your own. There are two outstanding engines to select from and both are up to the task when it comes to towing. The entry-level engine is a 2.4L 4-cylinder, capable of delivering 181 horsepower and 175 lb-ft of torque. It feels peppy on both city streets and out on the highway, too.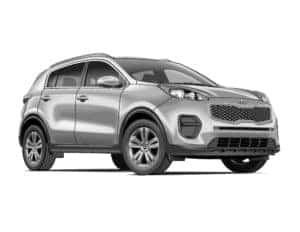 For a bit more power, you'll want to consider upgrading to the 2.0L turbocharged 4-cylinder. This engine makes 240 horsepower and 260 lb-ft of torque and accelerates quicker when called upon.
When equipped with the optional trailer brakes, both engines can tow up to 2,000 pounds. If you have a small trailer or motorcycle to bring along, this is more than enough power. Without the trailer brakes, the Sportage still offers a towing capacity of up to 1,650 pounds.
Using Cargo Space to Your Advantage

There's no question that it's nice to have that towing capability to give you the opportunity to bring a trailer along on your next trip. However, you'll also want to use the cargo space to your advantage. With the Kia Sportage, enjoy the towing power and interior cargo space that rewards you with the ability to transport many items with this SUV.
Whether the rear seats are up or folded, you'll have plenty of cargo space to play around with. When the seats are up, cargo space will max out at 30.7 cubic feet. With the second row folded down, you'll enjoy up to 60.1 cubic feet. Combine that with this car's towing ability and that means less stuff left behind and more fun on your next vacation or adventure.
Kia Sportage Safety Features

Of course, as you're out on the road, it's important to stay safe. The Kia Drive Wise technologies in the Sportage don't just alert you of a potential accident but can help avoid them altogether.
Available Autonomous Emergency Braking monitors cars in front of you, preventing a collision or reducing the impact of an unavoidable collision. Available Blind-Spot Detection helps reduce the blind spots on the sides of your car, while available Rear Cross Traffic Alert scans for cars passing by. If a car is out of sight and driving by as you back up, this system will warn you and can let you know when to press the brake.
Ready to Tow? The Kia Sportage Is Here for You
Sure, you'll never mistake the Kia Sportage for a full-size pickup. However, if you're looking to do some light towing and still own a car that's fuel-efficient and sporty, the 2019 Kia Sportage is right here at Pat Peck Kia.
Explore D'lberville, Gulfport, and Hattiesburg, bring your trailer along, and see what the Sportage can do for you. Contact us today to get started!