2019 Kia Optima vs Hyundai Sonata

At first glance, D'Iberville, Gulfport, and Hattiesburg drivers might think that the 2019 Kia Optima and Hyundai Sonata have a lot of similarities. Well, in the case of performance, they do.
However, when it comes to safety, technology, and amenities, one car comes out ahead. Learn more in this Kia Optima vs. Hyundai Sonata comparison from the Pat Peck Kia team!
Kia Optima vs Hyundai Sonata: Safety Features

When it comes to standard safety, you'll notice right off the bat that the Optima and the Sonata have a few clear similarities. For instance, each comes with its own blind spot monitor and lane change assist system to help you drive down the highway with confidence.
Likewise, each vehicle adds in a rearview camera to aid in parking. This feature can be especially helpful when pulling in and out of a tight spot.
However, the 2019 Optima takes it a step further in its base trim. In addition to the camera, it offers standard rear parking sensors to detect hazards or objects you might not see. To get these in the Sonata, you'd have to pay for an upgrade.
The Optima also offers a Surround View Monitor. This special camera gives you a bird's eye, 360-degree view of your vehicle and its surroundings. This is perfect for performing tricky maneuvers. Unfortunately, you won't find this feature at all in the competitor.
Entertainment Technology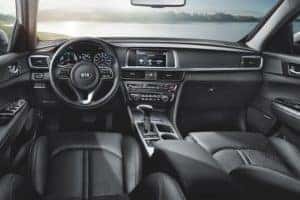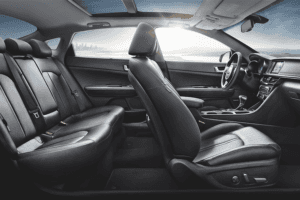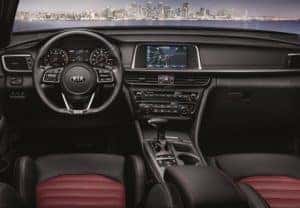 These two sedans also take slightly different approaches to their interior technologies. For instance, navigation systems are available in both and each one comes with an 8-inch touchscreen. However, the Optima comes standard with an 8-inch screen even without opting for navigation. The standard screen in the Sonata is only seven inches.
Your chosen audio will sound crystal-clear over the available 10-speaker Harman/Kardon® QuantumLogic™ Premium Surround system in the Optima. This system doesn't just offer a more robust sound. Clari-Fi™ goes one step further, cleaning up impurities in the audio for richer playback.
A similar Infinity® 10-speaker system is available in the Sonata. However, its 400 watts simply can't match the 630-watt output or the Clari-Fi™ enhanced audio in the Optima.
Functional Interior for the Optima & Sonata

Besides interior entertainment, you need interior amenities and conveniences to keep you happy.
The 2019 Kia Optima offers a highly versatile interior. An available 10-way power adjustable driver's seat keeps you comfortable on long drives. The Sonata, meanwhile, offers only an 8-way power adjustable driver's seat.
The Optima also has several impressive interior trim options. For instance, this includes standard CleanTex™ cloth seating, which has anti-bacterial and anti-soil properties to withstand even your dirtiest adventures (or messiest little passengers). There's even an available two-tone sport leather seat trim in black and red.
Options such as these aren't found in the Sonata. Its cloth seats don't offer the CleanTex™ treatment and its basic black leather sport seats aren't as stylish. These absences take away from the car's style and functionality.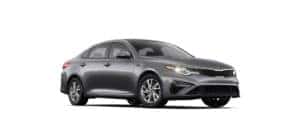 Choosing the Right Sedan for Your Needs
If D'Iberville, Gulfport, and Hattiesburg drivers looked at performance alone, the 2019 Kia Optima vs. Hyundai Sonata comparison might be an even match. Upon closer inspection, though, the Optima comes out ahead.
Want to learn more about the Kia Optima? Contact Pat Peck Kia to schedule a test drive today!