2018 Kia Forte vs Hyundai Elantra

There's been much debate near D'lberville, Gulfport, and Hattiesburg centered around the 2018 Kia Forte vs. the Hyundai Elantra. So, Pat Peck Kia decided to create this comparison article in an effort to detail the subtle differences between these two highly-acclaimed sedans. We'll discuss a range of topics moving forward, so you know which model offers the traits and features you value most.
And, if you have questions after reading through this piece, feel free to contact our helpful dealership!
Interior Dimensions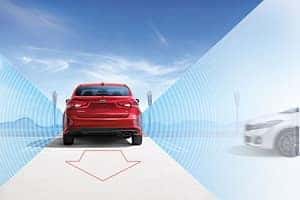 When you're discussing sedans, it's always nice to have extra space, whether it's for the passengers in the back seat, your own comfort behind the wheel, or that extra bit of cargo room before a long road trip. Thankfully, the Kia Forte and Hyundai Elantra both grade out well in this regard.
The Forte can seat five passengers, just like the Elantra, and comes with an available 96.2 cubic feet of passenger volume. Everyone in the car will have room for their luggage, too, thanks to the 14.9 cubic feet of cargo room located in the trunk.
The Elantra may seat the same number of passengers, but the fit is a little more cramped, with just 95.8 cubic feet of passenger volume. Also, the trunk tops out at just 14.4 cubic feet of cargo space.
Infotainment
If you happen to value infotainment and advanced technology when you're driving, then the Forte and Elantra are your type of sedans.
For example, the Kia Forte has in-depth features like a 7-inch touchscreen display, a voice-command navigation system, and the helpful combination of SiriusXM® Traffic and HD Radio™.
Another technology feature to note is the available Apple CarPlay™ and Android Auto™ systems, which make it possible for you to sync your smartphone with your vehicle, and then access your favorite playlist, or various apps, right on the touchscreen.
The Elantra also has these helpful integration systems, and its own form of navigation. However, the most common complaint is that these systems lack simplicity, especially when they are compared to the user-friendly interface found in the Forte.
Exterior Design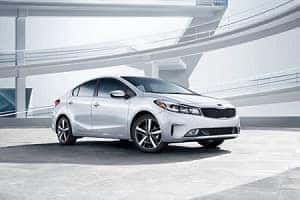 You can travel in style anywhere you go once you settle into the driver's seat of either the Kia Forte or Hyundai Elantra.
The Forte has a range of customizable options, which will give your sedan a distinctly athletic feel. A few noteworthy additions are the chrome exhaust tip, the rear trunk lid spoiler, and the dynamic combination of LED positioning lights and LED rear combination lamps. If you happen to be driving along a particularly curvy stretch of road, you'll also benefit from the dynamic bending light feature.
The Elantra, with its available chrome front grille and chrome beltline molding, understands a few things about fashion, but it simply doesn't offer the same customization options as the rival Forte.
Who's the Champ? 2018 Kia Forte vs Hyundai Elantra
If you're gunning for a sedan with customizable features, ample interior technology, and a spacious cabin, the 2018 Kia Forte is for you. To get behind the wheel, and on the open roads around D'lberville, Gulfport, and Hattiesburg, just contact Pat Peck Kia and we'll set you up with a test drive!