How to Read Tire Size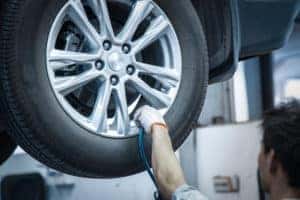 If you're a driver near D'Iberville, Gulfport, or Hattiesburg in need of a new set of tires, the tire center at Pat Peck Kia is here to help. To learn how to quickly read tire size, continue reading before scheduling a service appointment today!
Determining Your Tire Size
One of the first things you'll need determine is the type of tires your vehicle requires including the correct size.
The typical tire on passenger vehicles ranges between 13 inches up to 22 inches. Depending on your vehicle type and whether you need special tires for things like off-road travel or carrying heavy loads, your tire size will usually fall somewhere within this range.
One of the simplest ways to find your vehicle's tire size is by reading the tire code found on the outer sidewall of the tire itself. This nine-digit alpha-numeric code provides everything you need in order to correctly locate the tire that correctly suits your vehicle. The good news is that the tire code is surprisingly simple to decipher!
How to Read A Tire Code
The last two symbols of the code are most important when ordering new tries because they tell you the tire's diameter. For example, if a code reads "P215/65R18" that means your tires are 18-inches in diameter.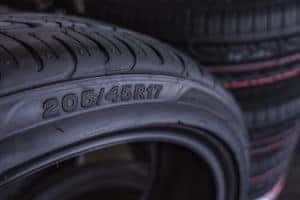 Normally, a tire code will either begin with the letter "P" for passenger vehicle or "LT" for light trucks followed by a set of letters and numbers that illustrate important aspects of the tire including:
Width – this tree digit number tells you the millimeter width from sidewall to sidewall.
Aspect Ratio – preceded by a slash mark, this two-digit number signifies the size of the tire's sidewall
Construction – this letter lets you know how the tire's treads are laid. For instance, "R" stands for radial.
Rim Diameter – these two numbers tell you what size wheel rim the tire fits
Load Index and Speed Rating –the last three symbols after the tire size tells you the maximum weight and speed the tire can safely travel.
Choosing the Right Tires
Once you know the right tire size, the next step will be to pick out the right type of tire. For most vehicles, all-season tires tend to work best as they provide adequate grip and longevity under normal driving conditions.
Depending on local conditions and your vehicle's specifications you might also consider:
Winter Tires – specially engineered to withstand sub-zero temperatures, winter tires are a smart choice for drivers who live in areas that experience long periods of heavy snow and ice.
All–Terrain Tires. Found mainly on off-road SUVs and trucks, their deep treads and reinforced sidewalls work well on both paved and uneven surfaces.
Performance Tires. Specifically engineered to withstand traveling at high speeds, it's recommended that performance tires only be used on vehicles with either turbo or supercharged engines.
Schedule Tire Service Today!
If you're a driver near D'Iberville, Gulfport, or Hattiesburg in need of a partial or full tire replacement, stop by Pat Peck Kia or go online to schedule an appointment today!