How to Check Transmission Fluid

Doing at-home checkups on your vehicle is a great way to keep it in the best condition possible. One thing you can do from the comfort of your own driveway is check your transmission fluid both for quality and quantity. Regularly checking your transmission fluid is a great way to prevent transmission repairs down the road.
In this guide, the team at Pat Peck Kia will walk you through the steps of checking your transmission fluid. DIYers in D'Iberville, Gulfport, and Hattiesburg should read ahead to get started!
Step-By-Step Instructions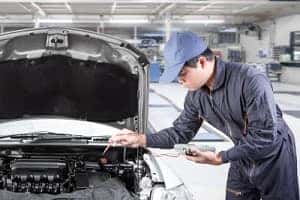 Checking your transmission fluid is a simple process if you know what you're doing. Using the following instructions, you can check the transmission fluid in your vehicle right in your own driveway:
Park your car on a secure level surface.
Get in your vehicle, start the engine, and keep it running through the duration of this process.
Get the engine worked up by working through all the different gears.
Shift back into park and deploy the parking brake.
Open and secure the front hood of your vehicle.
Locate the transmission drumstick and remote it.
Wipe the transmission drumstick with a clean rag or paper towel to remove all transmission fluid from it.
Stick the dipstick back into transmission fill tube as far as it will go.
Carefully pull the dipstick back out again.
Look at where the fluid level line hits in reference to the markings on the dipstick. The fluid level line should between the minimum ("MIN") and maximum ("MAX") lines.
After you've successfully checked your transmission fluid, you'll do one of a few things. If the level was in the right place, you'll secure the dipstick, shut the hood, and turn off the vehicle. If it's too low, you'll have to top it off with the right transmission fluid. If your transmission fluid is in bad shape, it's time to visit a mechanic and have the fluid replaced.
Safety Tips for Checking Transmission Fluid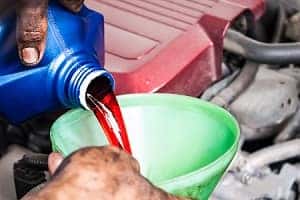 As with any maintenance service that you do at home, you have to be careful. Even if you follow all of the steps above correctly, things can still go wrong on occasion. Take advantage of the following safety tips to eliminate potential problems:
As you'll be working with a vehicle that's running, always keep an eye on moving parts under the hood. Fans, fan belts, pulleys, and other moving components can cause harm if you stick your hand into them.
Do not check your transmission fluid in a closed garage. Do this process in an open area so the exhaust coming from your running vehicle has somewhere to go.
When checking the fluid level, you should also be checking the fluid condition. It should be pinkish in color and free of particles and a burnt smell.
Need Some Help?
We hope this guide gave you all the information you need to safety check your transmission fluid at home. Drivers in D'Iberville, Gulfport, and Hattiesburg who still have questions or need new transmission fluid should schedule service at Pat Peck Kia today!