How Often Should You Rotate Your Tires?

When people stop into the service department at Pat Peck Kia, one of the most asked questions we receive is, how often should you rotate your tires? This is a common inquiry because the well-being of your wheels is vital for the long-term performance of any vehicle. With that in mind, we've put together this insightful article to provide each driver around D'lberville, Gulfport, and Hattiesburg with useful information.
So, if you were wondering how often you should rotate your tires or what the overall benefit of this common service is, then keep reading to find out!
So, How Frequently Should My Tires Be Rotated?
While it depends on a variety of factors that we'll soon discuss, most experts recommend you rotate your tires somewhere between 7,000 and 8,000 miles, or roughly every six months. Now, the variables that go with this estimate are numerous and are something you should keep an eye on as the miles begin to rack up.
First, the road conditions you drive on will be an important determining factor. If your daily commute, for instance, has you maneuvering through potholes or riding along poorly paved roads, this can wear down your tires more quickly over time.
Another variable to keep in mind is the weather. Temperate climates won't have too much of an impact, but if you find yourself consistently driving in excessive heat or chilling cold, this can also impact the long-term well-being of your tires.
Finally, your own particular driving style will also come into play. If you consider yourself to be conservative while behind the wheel, you'll likely see a longer performance life for your tires. On the contrary, if you tend to burn a little rubber on the open highway, it may be a good idea to rotate your tires more frequently.
What Are the Benefits of Rotating My Tires?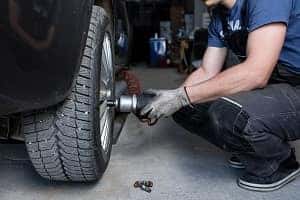 Tire rotation may not be the first service you think of when you take your vehicle into the shop, but it plays a major role in your car's long-term health by providing you with more traction and superior handling.
What happens over time is your tires begin to wear, but they don't wear evenly. The back-left tire, for example, may have its treads worn faster than, say, your front-right tire will. If this sort of uneven wear continues, it can have a noticeable effect on the handling of your vehicle.
To counteract this potential scenario, it's recommended that you rotate your tires. By doing this, they'll wear evenly, which will keep your handling more precise while also giving you more use out of each set of tires you own.
Rotate Your Tires at Our State-of-the-Art Service Center
If you feel it's time for a tire rotation, stop into the service center at Pat Peck Kia. We have a modernized facility that makes each service or repair simple and efficient. Plus, your vehicle will be in the trusted hands of our highly trained technicians.
So, schedule an appointment using our online scheduler tool, and we'll have you back on the open roads around D'lberville, Gulfport, and Hattiesburg in no time!