6 Steps to Buying a New Kia eBook
There's a lot of research that goes into finding a new car. And there's, even more, research that goes into buying a new Kia, simply because Kia offers so many options. Don't worry, we're here to help you!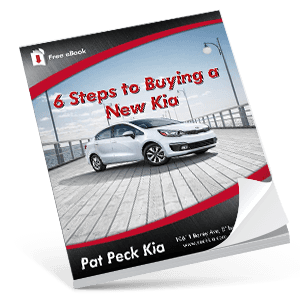 Our Pat Peck Kia experts wrote this 100% FREE eBook so that you can become aware of the 6 Steps to Buying a New Kia. We hope that you download your totally free copy today.
Here's what you'll learn:
How to lay out all your automotive needs
The most effective research processes
How to take the best test drive around
Kia shopping in today's market
Establish trust with the dealer
Understanding financing options
Regardless of where you are in the new car buying process-whether, you're still researching, you're picking up the phone to call the dealership, or you're signing on the dotted line today-this can help.
Download today to get access to exclusive money-saving coupons! If you live in D'Iberville, Gulfport, Hattiesburg, or any of the surrounding Mississippi communities, just fill out the form and download!
Download Your Free eBook