Coffee Shops near Me: Gulfport MS

Cities like New York, San Francisco, Portland, and Seattle are always tootin' their own horns about their coffee scenes. However, some of these coffee shops near Gulfport, Mississippi could probably give them a run for their money. Unconvinced? Check out Boozer's Brew & a Café Too or Coast Roast Coffee & Tea.
You can get your fix Monday through Friday from 6:00 am to 5:30 pm, and Saturday's from 7 am to 2 pm.
And, if you're in a rush, that's no problem, either…they have a convenient Drive-Thru window for you.
Check out a few of these jolting coffee drinks and delectable lunch items to see what they're all about:
Hot Drinks: Fresh Brew Coffee, Cappuccino, Latte, Café au Lait, Americano, Chai Tea, and more
Cold Drinks: Frozen Coffee, Iced Latte, Iced Coffee, Iced Cold Brew, Iced Americano, and more
Sandwiches: Turkey, Ham, Club, Chicken, Chicken Salad, Roast Beef, Veggie Wrap, Pesto, etc.
Salads: Garden, Caesar, Creamy Chicken Salad, and their Mississippi-famous Boozer Salad!
Every month, they hold a monthly paint party, too. So, regardless of whether you're a kid in body or a kid at heart, you can stop by and paint a bunch of exciting projects with your community.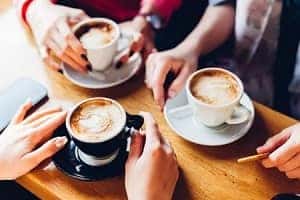 If you're craving them while you're on the road, you shouldn't have any problems finding your brew. While they are a regional chain, each of their locations feels like a neighborhood staple with roasters dating back 100 years!
When you walk into Coast Roast, it can be a caffeine trip around the world with coffee beans harvested in Africa, Asia, Central America, and South America. Coffee not your style? Be sure to check out their many varieties of teas as well as the awesome clothes and mugs.
Peruse their website to learn about the entire history of the company, as well – how their first location opened its doors in 2000, how they rebounded after Hurricane Katrina, and the rest of the local lore…
Grab Some Java in Gulfport, MS
No matter if you're an everyday coffee drinker or an occasional sipper, these coffee shops near Gulfport, MS have the flavor and atmosphere you're after. Stop by today to learn for yourself what makes these local spots awesome!