Best Escape Rooms D'Iberville MS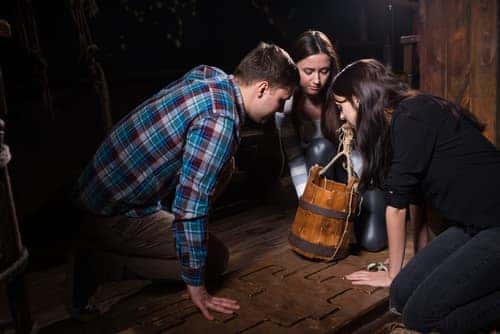 If you are interested in the recent craze of escape rooms, you're not alone. These events are popping up all over the nation just waiting to put your wits and problem-solving skills to the test. Ideal for groups and business outings, you truly must experience it in person to know what they're all about.
To help you do so, we have found the best escape rooms near D'Iberville. So, grab your savviest friends and get prepared to be locked up for the challenge of your life.
Escape This
249 Beauvoir Rd. #B
Biloxi, MS 39531
No matter your age, Escape This wants to know if you have what it takes to solve their themed escape rooms. Inside them, you and your group will work together to solve clues and puzzles to reach a final objective.
You can figure out who the killer is their Clue room based on the board game, collect items to prepare for Hannibal Lecter's transport, or escape Krampus as a supernatural hunter. You can also be "taken" in their Kidnapped room. Which one will you choose?
Hint Hunter Puzzle Rooms
10253 D'Iberville Dr.
D'Iberville, MS 39540
Are you ready for some problem-solving fun? Hint Hunters Puzzle Rooms gives you the chance to solve mysteries with our friends in an exciting setting of your choice. You'll have 60 minutes to search for hints, solve the puzzles, and make it out in time.
Some favorite rooms include a government covert mission, a jail escape, a relic-finding shipwreck adventure, and an alien invasion. You can even scour an abandoned mine! Do you have what it takes?
Locked Up
16 Marks Rd.
Ocean Springs, MS 39564
At Locked Up, you and up to seven other players will have one hour to make it out of the room of your choosing. They offer three rooms, all waiting to see if you can solve their puzzles to become a champion.
In Sherlock Murder Mystery, you will help this famous sleuth find a killer who is still at large. With Forgotten Souls, you'll come across a creepy cave where you will try to rescue the Black Emerald from inside. Once you enter the Redemption room, you will be blindfolded and handcuffed by the Dark Angel. Can you solve his twisted game to escape?
Solve those Clues!
Now that we have supplied you with the best escape rooms near D'Iberville, you're ready to get down to business and crack those puzzles. Good luck!