The Best Bars near Gulfport MS for a Meal and a Drink to Remember

Bars are fairly versatile establishments. It doesn't matter if you're looking for great food or drinks to unwind after a long week of work, they're always a great place to go.
There are dozens of bars in the Gulfport area. To help you decide where you should head to, here are our picks for the best bars in the local area that you need to check out.
Adventures Pub & Spirits
Adventures Pub & Spirits
is a bar that can cater to just about anyone. Whether you want fantastic food or a drink, you'll find it here.
If you want food, you can't go wrong with anything on their menu. They have everything from chicken wings and calamari to homemade gumbo and crab claws. Also, they're known for their seafood selections, such as their Shrimp and Catfish Po-Boy, which comes with fresh Gulf Coast shrimp or catfish.
To make your visit to this bar even better, be sure to check out their cocktail menu. With a bar stocked with top-shelf liquors, their drinks are smooth, flavorful, and fantastic overall.
Connect with Adventures Pub & Spirits on Facebook to get a better idea of what this bar has to offer. 
Anthony's Sports Bar & Grill
For one of the best sports bar experiences in the area, you'll want to head to Anthony's Sports Bar & Grill. They have over 30 draft beers on tap, including domestics, local brews, and imports. Plus, they have one of the largest HD displays in the area, so you can enjoy all the biggest games of the season while you enjoy a beer or two.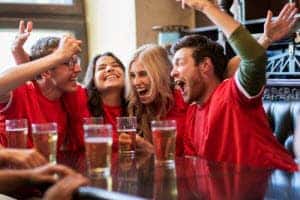 However, the aspect that really makes this place special is its food. Anthony's is known for having an extensive menu of great eats that everyone is sure to enjoy. A winning combo of a meal would be their Touchdown Burger and Anthony's Fries.
The Touchdown Burger features a perfectly cooked patty topped with a fried egg, bacon, cheddar, and smoked aioli sauce. The fries are a house favorite, too. Topped with roast beef, gravy, cheese, and green onions, they're an ideal bar food item.
Take a closer look at their menu and all the beers on tap and follow Anthony's Sports Bar & Grill on Facebook.
Shaggy's Harbor Bar & Grill
If you're looking for a place that would be perfect for a night out with friends and for dinner with the family, Shaggy's Harbor Bar & Grill may be the bar for you.
They have tons of beer and wine selections as well as margaritas. Those who want something a little sweeter and a bit unique can try their Frosty and Beach Cocktails. They're fun and are a perfect treat to celebrate the end of a long work week.
Shaggy's is ideal for family dinners, too. They have burgers, salads, and desserts that will please those of all ages. On top of that, they offer a long list of specialties, including their Captain's Seafood Platter. This comes with fried or grilled shrimp, oysters, and catfish filets. Plus, it's served with jalapeno hush puppies, fries, and homemade cocktail sauce.
Check out Shaggy's Harbor Bar & Grill on Facebook to learn more about their extensive menu.
Bars with All the Food and Drinks You Want
When you're ready to indulge in some great food and great drinks, head over these top bars near Gulfport, MS. From dinner with the family to drinks with friends, they're the perfect place to go for any occasion.