2018 Kia Sportage Review
The 2018 Kia Sportage is stylish. It also features a wide range of technologies and convenience options. However, what about safety? What's the engine performance like?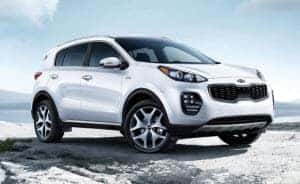 To help answer all these questions, Pat Peck Kia has put together this 2018 Kia Sportage review, so everyone around D'lberville, Gulfport, and Hattiesburg has all the information about this exciting model.
Also, don't forget to end the year on a high note! The Kia's Light Up the Holidays sales event is on now. For a limited time, we're offering special deals on some of our most popular models. It's the perfect way to start the new year!
Let's Look at the Engine
The Sportage has two available engine options. The first is a 2.4L 4-cylinder engine with 181 horsepower and 175 lb-ft of torque. Featuring a 6-speed Sportsmatic® transmission and optional Dynamax™ All-Wheel Drive, this engine can handle a variety of terrain.
If you're looking for more power under the hood, the 2018 Kia Sportage has the engine for you. This second option is a 2.0L 4-cylinder engine that comes with 240 horsepower and 260 lb-ft of torque. This added oomph is noticeable, whether you're riding along the highway or an off-road trail.
Infotainment & Convenience
The Kia Sportage prioritizes convenience, and that's evident in the 2018 model. Available Bluetooth® wireless technology allows you to sync your device with the car, creating easy access to your favorite playlists and navigation apps.
Another handy feature is the available Front and Rear Park Assist system. This monitors your distance from objects when you're trying to park and alerts you if you get too close.
To top it off, a drive mode select system helps you customize your 2018 Kia Sportage to suit your driving preferences, with every option from sporty to smooth.
Looking Out for You
An abundance of safety features in the Kia Sportage will help you drive care-free.
An available Lane Departure Warning System alerts you if you begin to veer out of your respective lane. The alerts don't stop there, though. A Forward Collision Warning System means the Sportage will also warn you if the system believes a frontal collision is likely. If you fail to react in time, Autonomous Emergency Braking will come to your aid, helping to slow the vehicle down.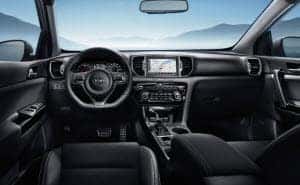 Stylish Exterior
The exterior of the /used-vehicles/#action=im_ajax_call&perform=get_results&make%5B%5D=Kia&page=12018 Kia Sportage is sleek and stylish, featuring bold lines and an appealing design. LED daytime running lights help the Sportage stand out, while chrome window trim and a rear spoiler add a little extra flair.
You can also get an available gloss black/satin trim front grille. If you happen to get caught in unseasonably cold weather, available heated outside mirrors make life easier, while available roof rails offer another unique look for your Sportage.
Get Behind the Wheel of the 2018 Kia Sportage
With a long list of appealing features from performance and style to safety, the 2018 Kia Sportage is an all-around terrific vehicle with a lot to offer.
Pat Peck Kia wants everyone around the D'lberville, Gulfport, and Hattiesburg areas to enjoy this exciting model. So, if you want to get behind the wheel, contact our showroom and schedule your very own test drive.